In a letter from the front lines, the owner of PrintStore Group recounts the challenge of resisting the invasion and carrying on with his printing business
Since the beginning of the invasion, many Ukrainian printers have been personally involved in the conflict plaguing the country. Some still manage to split their time between combat and running their businesses. Among them is Oleg Doroshenko, owner of PrintStore Group in Kyiv.
Below is a letter from Doroshenko, reporting his personal experience and feeling, provided and transcribed for Print Against War by journalist and publisher Igor Agarkov of Print+.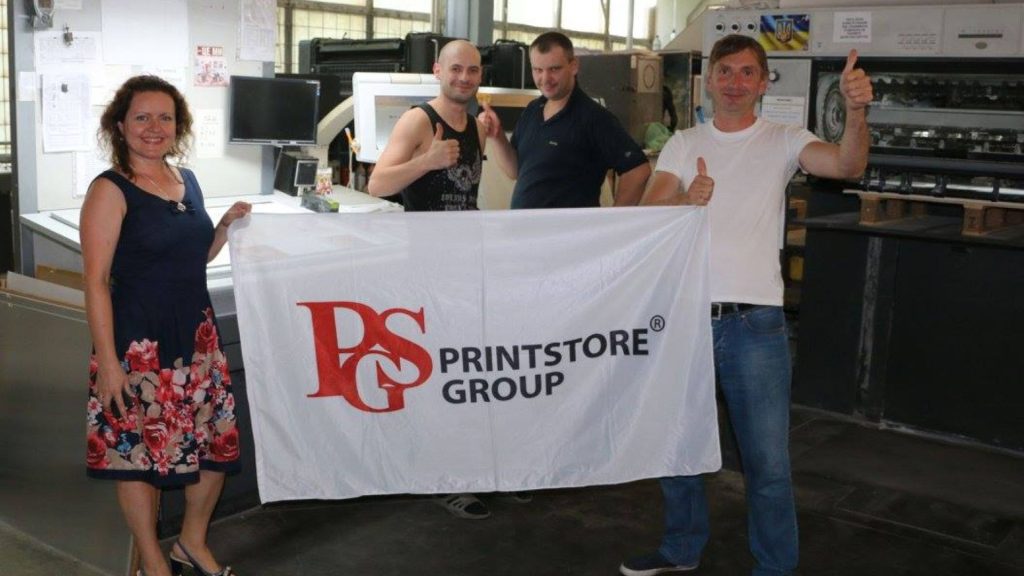 Glory to Ukraine, dear friends! I am Oleg Doroshenko, director of PrintStore Group printing house, Kyiv, Ukraine.
Thank God, I have the opportunity to talk to you now, because everything could be much worse. From the first days of the war, I evacuated my family (my wife Svitlana and young daughter Ivanka) from Kyiv to the city of Makariv, near Kyiv, to stay with my mother.
I hoped that our family home would not be affected by this war…
However, we got directly in hell, because the Russian troops tried to go to Kyiv exactly through Makariv. For the next 10 days, we had to hide in the basement of our house, without light, heat, mobile and Internet connection, with little one-year-old Ivanka in our arms. I already thought we were doomed!
This horrible picture still stands before my eyes, of my wife, holding Ivanka in her arms, running into the shelter at night, under the sounds of explosions near our house and the glow of fire all over the sky…
One morning, my brother, who was also with his family in Makariv, came to us and said that we had to leave here or we would die here. At the same time, the chances of a successful evacuation were estimated at 50/50, as Makariv was almost completely blocked by the occupiers, and one of the cars trying to leave Makariv was brutally shot by the occupiers.
Therefore, the decision to evacuate from Makariv was one of the most difficult in my life, because we risked the lives of our families! Thank God, we left in a convoy of cars with children, accompanied by a man from the local territorial defense.
We headed for Western Ukraine, where it was relatively calm. As soon as I heard that the EU was opening its doors to refugees from Ukraine, I immediately decided to send my family to Ireland, further away from this brutal war. I will be grateful all my life to this glorious country, which provided salvation and protection to my family and other families from Ukraine! Glory to Ireland!
Now briefly about my path in printing.
It was quite thorny, because at first I worked for some time for the Parliament of Ukraine, preparing law drafts. However, because I am rather a creative person, I needed something new, interesting and dynamic, so I chose printing.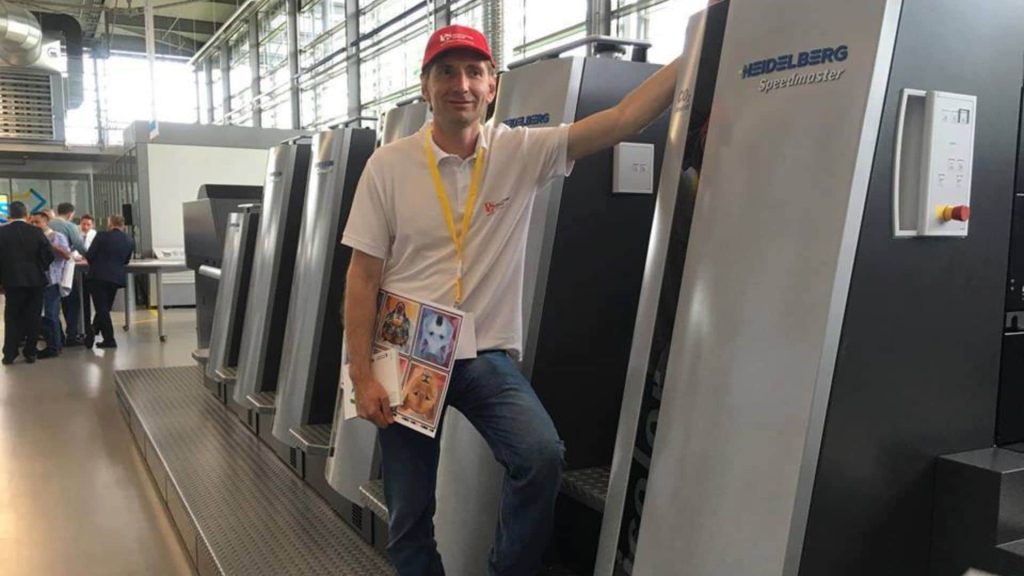 The history of our company began back in 2007. We first started as an advertising agency, with the ambitious name Intercontinental Ukraine. We set the goal of becoming a leader in the printing industry in Ukraine! And in 10 years, our dream has come true — we were confidently in the top 10 offset printing houses in Ukraine!
However, PrintStore Group is not just an ordinary printing house, it is much more!
First of all, this is a team of professionals in printing!
We love to perform complex projects and tasks that are beyond the power of a simple printing house, and we often require the involvement of several printing houses, our reliable partners, to implement the project. 
For example, a bright case is the book "Let's not fall asleep while walking" by David Denil from Belgium, who found us in Ukraine, and we implemented his idea for the book's outstanding design! This book was indeed very complex in terms of printing: integrated binding with embossing, the inner block consisted of many sections, on paper of different types (newspaper and uncoated eco-paper), with a thumb index and inserts of different formats.
We involved four printing houses in this project, and as a result this book was published and was nominated at the Documentary Book Festival in France. It was one of the most difficult in terms of printing in our history!
David, if you can hear me now, I send my greetings to you, my friend! Glory to Ukraine, we will win!!!
In general, before the war we printed a lot and had customers from Ukraine and Europe (more than 200 Ukrainian and foreign companies and corporations); so, we welcome everyone from all over the world to print in Ukraine to support our printing industry after the war!
We are currently working in wartime mode — we continue to fulfill critical orders for our customers, although, I must admit that the number of orders has fallen critically.
We're proud that some of our personnel decided to serve to protect Ukraine from armed aggression by the Russian occupiers.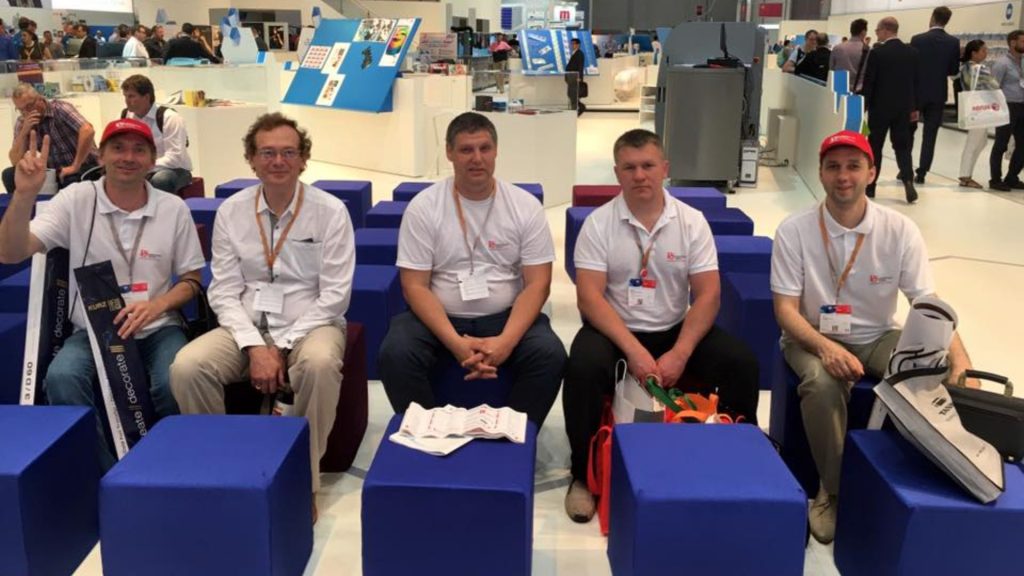 The priority for us now is the financial support of our staff during this difficult time and the restoration of our printing industry after the war!
We are confident in our victory over the neo-fascists! No wonder we have an old saying — he who comes to our land with a sword, from that sword will die!
Putin's blitzkrieg failed from the first days of the war, meeting the heroic resistance of our people to the aggressor! Now the whole world understands that fables about the strongest army in the world are just a myth!
We are confident that this war will end soon, as the occupier is running out of all possible resources to continue a war of this scale with Ukraine, the largest country in Europe.
Ukraine will stand and win! Glory to Ukraine!!!